We welcome everyone (even some MPs) and encourage you to come and see us, so on this page, we've tried to think of all the questions you might need answers to, in order to decide whether or not to visit us and if you do, how easy we are to get to, find, get in to and negotiate around our spaces.
Where are we?
---
We're very centrally located in the southern-most borough still on the north side of the river, situated in Islington, directly opposite St. Mary's church at 121-122 Upper Street.
Tubes
We're equidistant between Angel Tube on the Northern Line (black on the map) and Highbury & Islington Tube on the Victoria Line (light blue on the map).
Buses
Incredibly well served for buses, we've stops almost outside travelling in both directions for routes 4, 19, 30 & 43 and just 2 minutes walk away on Essex Road, you can pick up the 38, 56, 73, 341 & 476.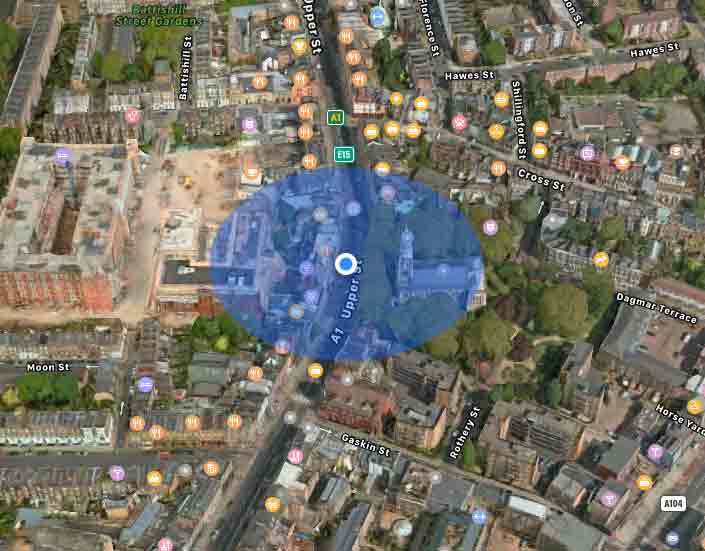 Bikes
There are bike racks opposite us at the front of St Mary's church, any number of lamp and signposts outside a also a ring on the front of our shop to padlock one on to. You can bring in folding bikes which we'll watch for you behind the counter. There are TfL bikes to rent nearby at Islington Green and loads of the various app-based bikes lying around everywhere.
Cars
If you're travelling by car there are free parking and loading bays outside where you can stop for 30 minutes. All the side streets also have pay-and-display bays. For more details of how it all operates, click here.
Shop Layout
---
You enter our shop through one front door. There's a short ramp for those of you with buggies and wheelchairs to make things easy to tackle what is a very low step. The door is almost always hooked open (unless it's especially freezing) and the opening dimensions are 195 x 80cms (6'6" x 2'8")
We're a medium-sized shop, which looks quite small on the outside, but is tardis-like on the inside - around 3,000 square feet or 280 square metres. We're split into a ground floor and basement and an outdoor garden space. The layout changes frequently, depending on the nature of our ever-changing stock, but we strive to keep the corridors and aisles wide enough to negotiate with as few impediments as possible, whilst still maintaining our eclectic, Aladdin's cave charm.
There are large double doors to the rear of the shop, opening into a charming garden space where we sell differing products, depending on the season. This too, has a ramp across a low step to make life easier for both you and us.
Basement
We have a basement which contains more goodies, mostly furniture and is accessed via a staircase in the centre of the shop. It's fairly narrow - about 75cms (30") wide with a hand rail down both sides. Unfortunately, we don't have a way of getting wheelchairs and buggies down there and neither the space nor finances to instal a lift.

Whilst we welcome parents with buggies large and small, even those OTT 4-wheel-drive monster versions, when it comes to Christmas we get incredibly busy and it's frequently impractical to push a little 'un around without banging into stock or customers, so it's worth planning ahead to do your Christmas shopping and come when we first open or near closing time.